For many of us in the Edmonton and St. Albert Area, we love our homes and put in a lot of care and elbow grease to make sure it's beautiful inside and out.
It's not easy – takes a lot of work, but at the end of the day, we are proud to call our house, our home.
However, with the weather we've been having, it can be daunting and disappointing to spend hours, days and weeks on your outdoor projects, just to have them saturated with heavy rain, winds and volatile temperatures.
But weather is weather, what can you do?!
Having high-quality shingles and siding on your home, shed or agricultural building is honestly and truly the best place to start!
The shingles are the first barrier protecting your valuables from damage and mould from building up in the walls. It's important to make sure your shingles are not lifting, broken or missing, otherwise, you're sure to have leaks. Here are some quick steps for roofing maintenance.
Your siding takes the brunt force from wind and gusting rain or hail, especially with high winds. Making sure your siding isn't lifting, peeling or broken is just as important.
If you're looking for new roofing, shingles or siding, consider metal.
Metal Roofing
Sheet metal is the ideal material for a roof or agricultural building. Although metal can be a more expensive option for roofing or siding it generally lasts longer than asphalt shingles and requires less maintenance – bonus.
In fact, metal roofing can last up to 40-50 years (whereas asphalt shingles last 15-20 years). There are a variety of designs, styles and colours, and many metal companies offer 40-years of colour and warranty. You're sure to find something that matches your style.
Sheet metal is perfect for backyard structures as the metal will shield vegetation from harsh weather and protect the ground from over-saturation. If you are planting special plants, fruit, herbs and vegetables protect your investment with a custom sheet metal roof.
It is also ideal for barns or agricultural buildings as it will last for decades with little maintenance!
You can also get shingles made of metal. So if you don't like any of the variety of sheet metal roofing systems, you can take a look at some beautiful metal shingles.
Custom Sheet Metal Structures
Sheet metal roofs are gaining in popularity as they can be custom ordered to fit any structure perfectly. At L.B.H. TIMBER MART, we can bend and cut most sheet metal to your unique project. We can also order what you need with an incredibly fast turnaround!
There are no limits on how your sheet metal can be cut or delivered so let's get creative together. Talk to our experts about your projects to review your options. At L.B.H. TIMBER MART, it's always a good day to ask about custom sheet metal!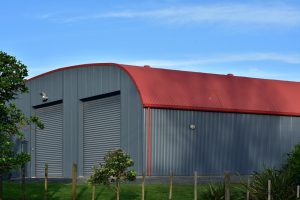 Protect Your Investment
Custom sheet metal always looks clean and uniform when cut and installed correctly.
If you have a unique space in your backyard, it may be the perfect place to build a she-shed, man-cave, playroom or a gorgeous agricultural space to house plants and vegetation all year round. Your imagination is the only limit to the magic you can create.
L.B.H. TIMBER MART is located just outside Edmonton and is the place where all of your building and DIY needs are taken care of. Our friendly and knowledgeable staff can help you with your custom sheet metal project and any other materials you need to complete your perfect space. We look forward to seeing you soon.